The cockroach against the giant. Will rome2io.com beat in a head in head battle Google Flights, Google Maps, and Google Hotel Meta-Search? Will Rome2rio give better value using its travel search engine and save costs on your next travel in comparison to the Google travel planning and booking tools?
Rome2Rio a TravelTech Startup that gives users new value
Rome2Rio is a great story, 2 brilliant ex-Microsoft software engineers, Bernhard Tschirren and Dr. Michael Cameron started their own company trying to create new value for the travelers. They created a new value proposition and achieved what 3 internet giants failed to do although that there were already active for many years – Google, Expedia group (Expedia, hotels.com, trivago and booking.com, Kayak, momondo and  etc.)
When Rom2Rio started, they had to create new value in order to generate traction for users that used to plan and book their vacation on websites and platforms with hundreds of millions of users providing good reliable service (booking.com – 500,000,000 visits per month, Expedia – 70,000,000 million visit per month, Google 60,000,000,000 visits per month, results according to similarweb.com – July 2019). After 9 years from the launch, Rome2Rio established itself as an important platform providing valuable and unique service to millions of users. See here a screenshot from similarweb showing more than 20 million visits monthly only on their website.
On top, if you will add the users using their app we will get to a substantial number of users enjoying Rome2Rio services.
You must try Rom2Rio the next time you make travel plans
So why did no one think of this service (a multimodal transport travel search engine) that Rome2Rio thought of? I don't know, maybe because Google is so big that it decided to segment its services and develop separately its maps tools, flight planning tool, and hotel meta-search engine. The other 2 big players, Expedia and booking are probably too concentrated about bookings and conversions and less about creating planning tools for travelers. Rom2rio gave more thought for a comprehensive solution, fit for the person who wants to plan a vacation.  
Rome2Rio is ingenious! I can assure you that. We as consumers are not always rational or logical when we have to solve a problem. Sometimes will say, I will save $20 and sit on a bus another 4 hours because I hate plans or the last time I flew I was frustrated by the security controls. Rome2Rio is the only comprehensive planning tool that lets you choose between renting cars, using trains or plans or any combination between them. But this not what I would like to test. 
The question that this article is trying to answer is if you choose to stay only on Rom2Rio and their partners (Skyscanner and booking.com)  will you save money on your next travel when comparing results to planning and booking everything on Google – Google Flights, Google Maps and Google Hotel Meta-Search?
Introduction to Rome2Rio Travel Booking Engine
Rome2Rio head in head with Google – Google Maps, Google Flights, and Google Hotel Meta-Search
So I put Rome2rio to its biggest challenge so far. The challenge against the biggest search engine in the world  – Google. Google wants a larger piece of the travel industry, not only as an advertising platform but also selling travel-related products as an affiliate. It will be interesting to see if they give a better service than Rome2Rio and save the user money. 
The challenge – Berlin to Venice and back in July
I wanted to check how best to get from Berlin to Venice by plane or by train and then to find a decent hotel in Venice for a few days. 
Went to Rom2Rio and punched in Berlin to Venice and got the screenshot below.
Must say the page I got is the best overview page I ever got when planning a route. Showed everything clearly; transportation options, time of travel and prices.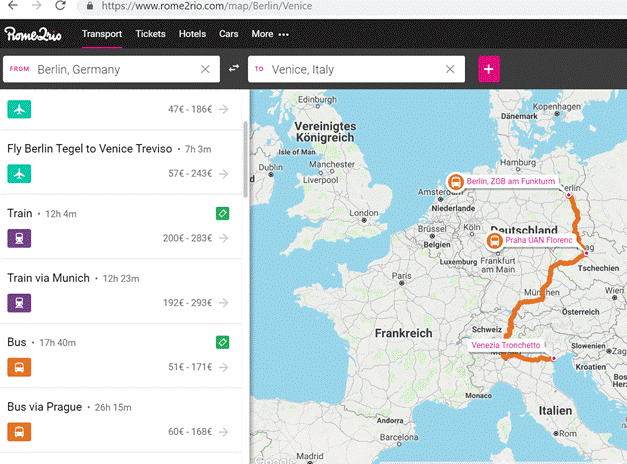 Went on and looked up the price of the flight – a Ryanair flight, return ticket for 172 Euro.
Thought it is a good price taking into consideration that I wanted to book only one week in advance before the flight.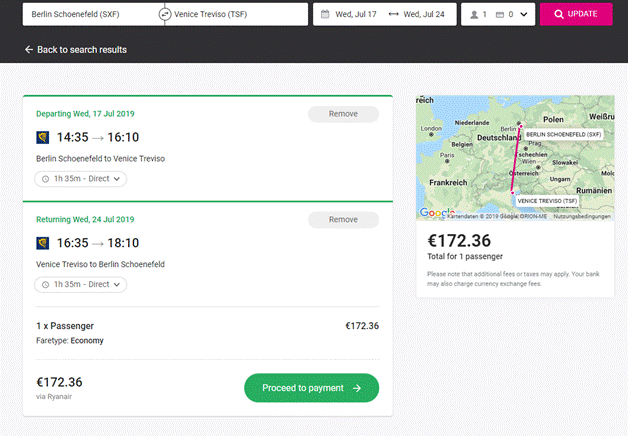 Went on to Google Flights and gave the same dates for a flight from Berlin to Venice and back. Google Flight search engine found me a much cheaper flight. An Easyjet flight for 119 Euro. So I would have saved more than 50 euro with Google.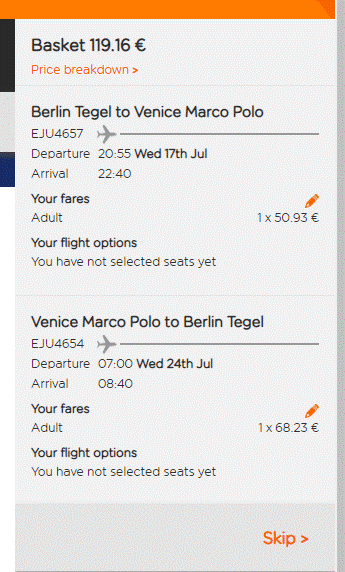 >>Find the cheapest flight online
Rome2Rio against Google Maps – the train challenge
Now I went on to check the train display page and booking option. Must say again the display page of routes, map and prices are great. Because Rome2Rio has an agreement with the German railway (Deutsche Bahn) you can go directly and book the tickets.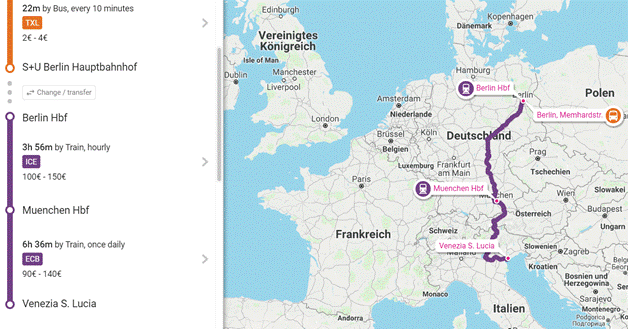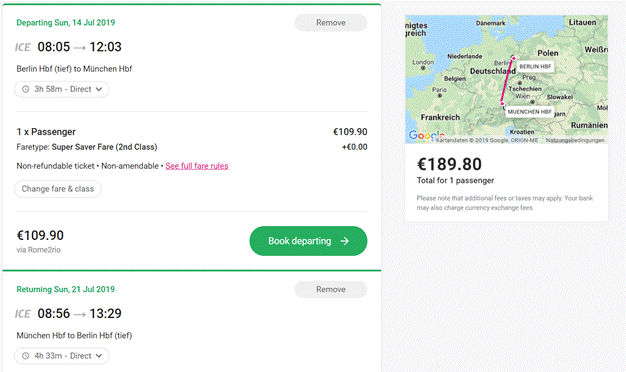 So I went on to the booking engine of the German railroad and got a price of 189.80 Euro. According to Rome2Rio recommendation, the next step would have been a bus from Munich to Venice for 102 Euro. The process from choosing to booking was fairly simple and user-friendly.
Went on to check Google Maps to see how can I plan and buy my train and bus ticket to Venice.
The first display page was good and very similar to Rome2Rio. This was the only page that makes is easy to see the route and plan. The following pages were a disaster.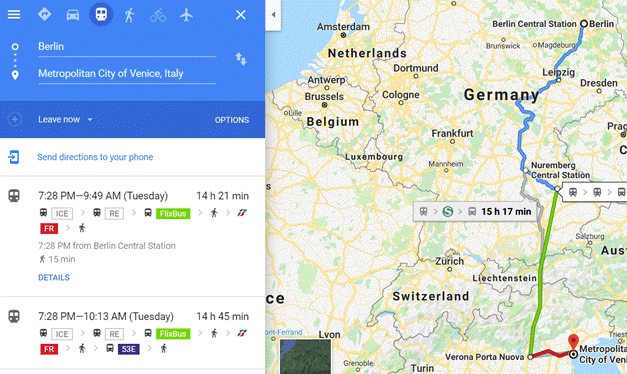 Following the first display page showing the train and bus route, I went on schedule page to find the train I was looking for. I could not figure out how to plan a return ticket and could not figure out how they create a timetable that made sense to combine the train and buses. This tool doesn't really help you. 
If you would like to book tickets, Google Maps directs you to the designated companies to do the booking there. So you have to start your search queries again. In comparison to Rome2Rio it doesn't really match as a user-friendly booking tool.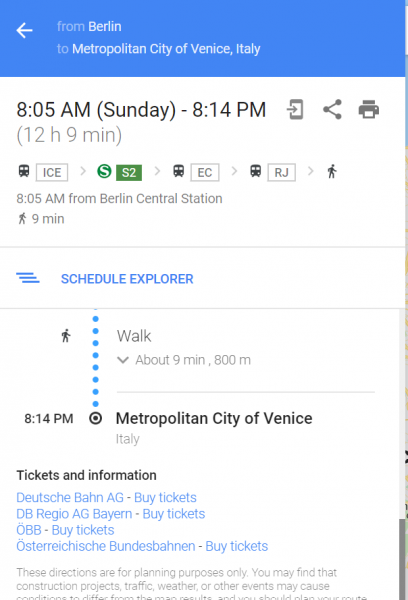 Next Challenge – Rome2Rion (booking.com) vs. Google Hotel Meta Search
Stayed on the Rome2Rio platform and was directed to booking.com. One of their main income sources is selling their users hotel through booking.com, making commissions as an affiliate partner.
Found this nice hotel in Venice – Holiday Inn Mestre Marghera for 124 Euro.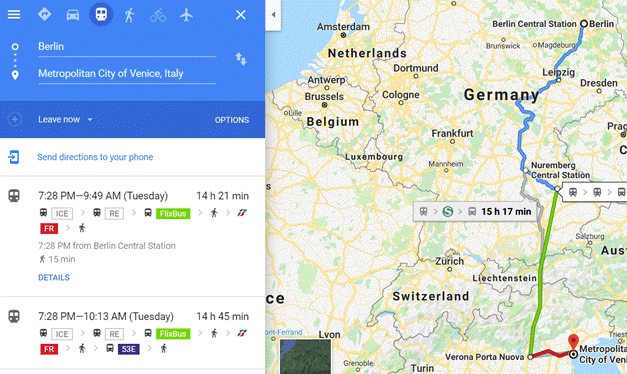 I went to Google Meta-Search engine and looked for the same hotel at the same dates. As you can see below I got an offer that is 10% cheaper than booking.com. Well, the biggest search engine of the world brings all the sellers to the bidding window and makes it possible to find cheaper prices than booking.com.
>> Best Hotel Comparison Websites 
Rome2Rio against GOOGLE – Conclusion
Google's mission statement is to organize the world's information and make it universally accessible and useful. My conclusion is that the cockroach beat the giant in its own game. Rome2rio is a better travel search engine than the 3 google products it run against. Rome2rio thinks about the person who is looking to make the travel plans. The options, prices, and routes are presented clearly enabling the traveler to make an informed decision based on all options. On the other hand, Google Flights and Google Hotel Meta-Search beat booking.com in the hotel price and Skyscanner in the flight price. This only comes to show that Google uses its search engine capabilities to find the best deal. It immediate presence at the top of the page will lead to growing numbers of users that will opt for Google at the expense of the Booking.com and Skyscanner and Expedia.
So in a nutshell – Rome2rio is a better comprehensive planning and booking tool, Google is cheaper.